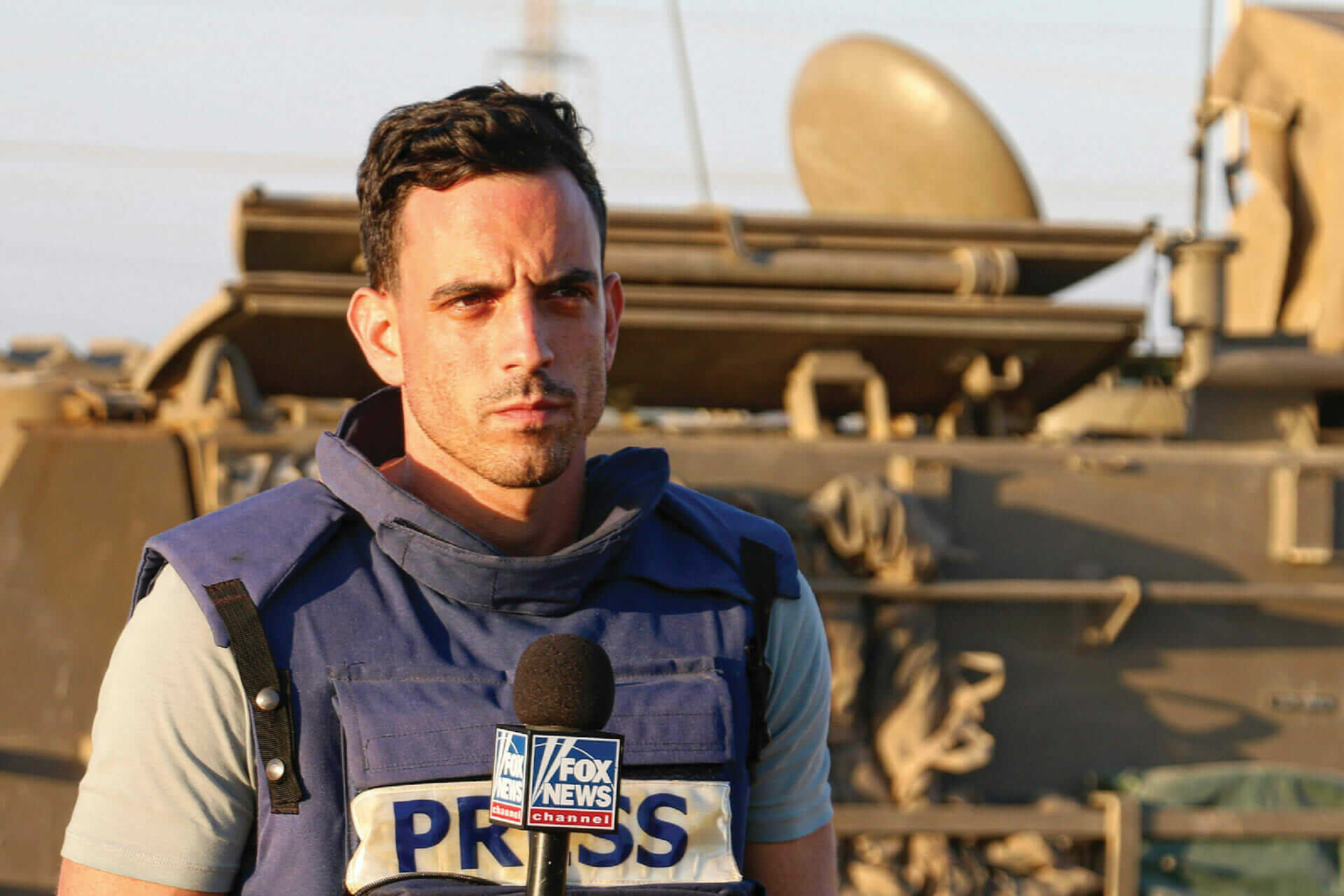 An interview with Fox News Foreign Correspondent Trey Yingst, American '16
As Russian artillery shells began raining down on Ukraine in February, one Beta brother, Trey Yingst, American '16, wasn't running away from the war – he was running to it.
The Fox News foreign correspondent, frequently gracing television screens donning his press vest and blue safety helmet, has led the network's coverage of the conflict ever since. Over the sounds of air raid sirens and distant explosions, Yingst, 28, has brought the brutal realities of war into millions of American households. This is not the young reporter's first time in a danger zone, but rather the most recent in a long series of assignments where he confronts disaster and violence.
Born in Harrisburg, Pennsylvania, and a founding father of the Eta Pi Chapter at American University, Yingst's journalism career launched before he had even received his diploma. As a co-founder of news media outlet News2Share in 2014, he balanced his schoolwork with on-the-ground assignments in places like Gaza, Ukraine, Rwanda, Uganda and Ferguson, Missouri.
He became a recognized name soon after graduating when he became chief White House correspondent for One America News Network in 2016. In 2018, he joined Fox News in his current role based out of Jerusalem. He was named to the Forbes "30 Under 30" media list and Adweek's "Young Influentials" list in 2019.
As quickly as Yingst's career has skyrocketed, so too has his reputation. He has sparred with White House press secretaries, ridden in the back of a pickup truck with the Taliban, conducted interviews with presidential advisors and broke stories that led to government action against bad actors. In short, he has won the admiration of the public and his peers in just a short few years.
Though he returned to Ukraine shortly thereafter, The Beta Theta Pi magazine secured an interview with Yingst in April when he was home in the United States for a brief respite. With support from his network and no topic off the table, he discussed his time abroad and how Beta influences his life and work.
Editorial note: This interview has been edited for length and clarity.