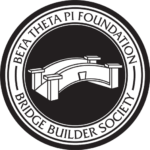 The Bridge Builder Society is reserved for Betas and friends who have chosen to leave a legacy for the future of Beta Theta Pi through their will or estate plans. More than 240 such individuals have made the Beta Foundation beneficiaries of estate gifts such as bequests, life insurance policies, charitable remainder trusts, charitable gift annuities, living revocable trusts, or various retirement plans.
Common ways to make a planned gift:
Charitable Bequest: Include language in your will or living trust that leaves cash, securities, property or a percentage of your estate to the Beta Foundation. For sample language, click here. Need to make a will? Do so for free in 20 minutes or less using FreeWill.
Retirement Plan Beneficiary: Name the Beta Foundation as a beneficiary of your 401(k), IRA or another retirement plan.
Life Insurance Policy: Name the Beta Foundation as the owner and/or beneficiary of a life insurance policy.
To join the Bridge Builder Society, complete the Planned Gift Verification Form and return it to the Beta Foundation at PO Box 6277, Oxford, OH 45056.
For more information or to discuss other planned gift options, such as charitable gift annuities, charitable remainder trusts or gifts of property, contact Chief Foundation Officer Phil Fernandez, Miami '06.
Bridge Builder Society Members
Giving Guide/Ways to Give
Every year, alumni, undergraduates, Friends of Beta and parents support the Beta Foundation. Contributions help bring the Fraternity's vision to light by advancing its educational mission. To make a gift to the Beta Foundation, choose one of the many giving options below.