Advisor Academy
Providing support, education and connection to local chapter advisors
The Advisor Academy is a series of events exclusively for chapter advisors focused on high-level learning and inspiration. Delivered both virtually as conference-style events in-person as drive-in-style events, each session is an opportunity to hear from Beta staff, keynote presenters and other volunteers on a variety of topics that are essential to highly successful advising efforts.
Advisor Academy Highlights
Advisor Academy is designed to provide our most essential volunteers with education that will help them to better guide, coach and mentor chapter leaders. Each session provides an inspirational keynote from a Fraternity leader, as well as an opportunity for advisors to participate in focused breakout sessions of their choice on topics such as:
Advisor Basics
Navigating Student Mental Health
Planning Safe Chapter Events
Strong Officer Transitions
Creating an Inclusive Brotherhood
Am I at Risk?
Insurance Basics for Advisors
and many more!
Advisors are also encouraged to network with others from similar campus types, chapter sizes and/or facing similar advising challenges.
Beta Theta Pi invites feedback from past and future Advisor Academy attendees about desired topics for breakout sessions. If you have an idea, please send it to Director of Leadership and Education
Dr. Eric Buller
.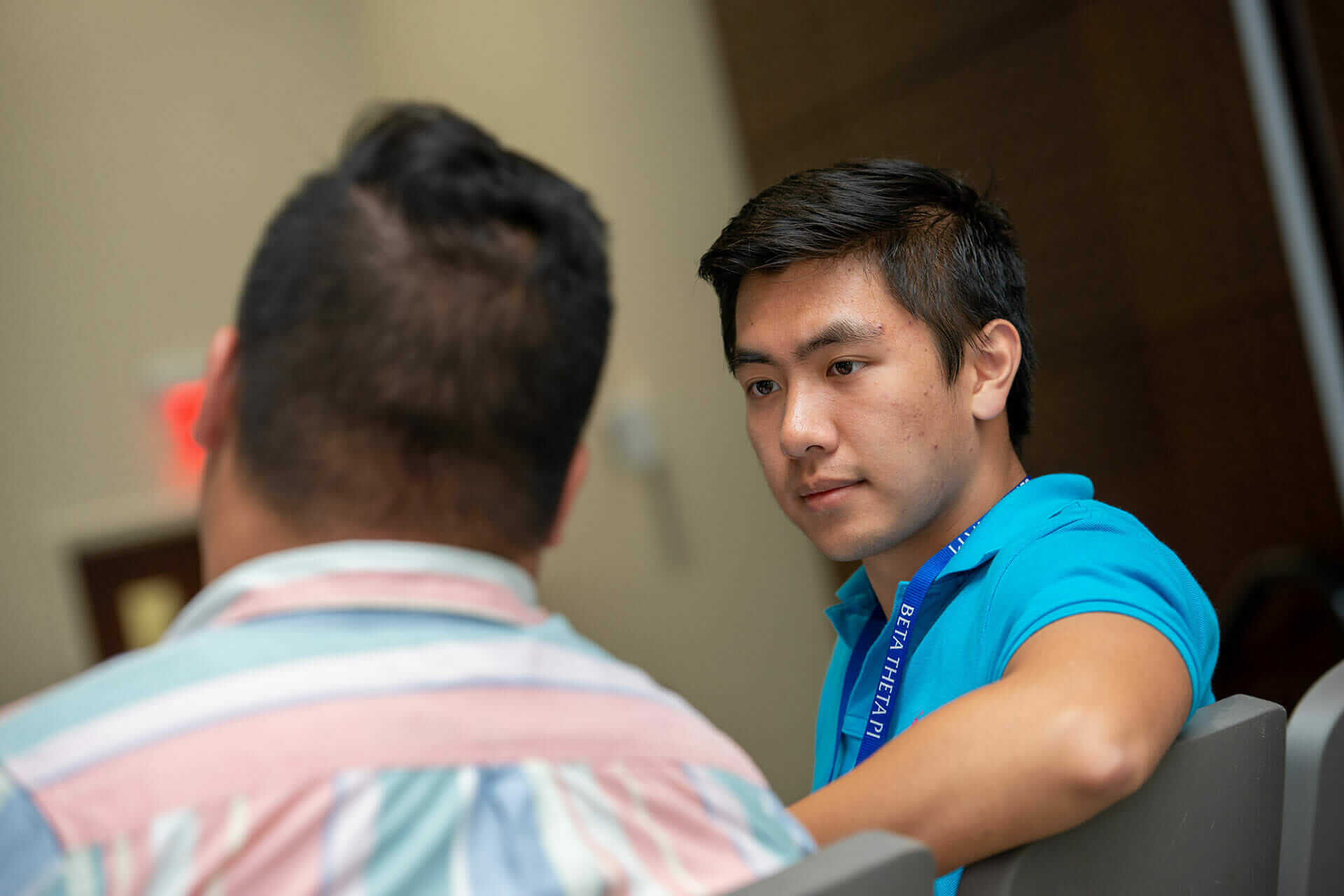 "Beta Theta Pi is a family descended from generations of Bridge Builders."
– Peter E. Van de Water, St. Lawrence '58
Essential Information
Who
Chapter Advisors
Where/When
Check back here for the schedule of future Advisor Academy events.
Cost
The event is free for all advisors to attend
Incentive
Advisors who complete the event will receive a $50 gift card as a "thank you" for their dedication to Beta's chapters and to help defray any costs of attendance. Advisory teams that have two or more advisors complete the event will receive a $200 gift card to help support the cost of advisory board development.
Questions
For additional help, please contact the Administrative Office at 800.800.BETA or info@beta.org.
Quick Links
Attendee List
See who signed up for the 2022 Advisor Academy.
Who Attended
Schedule At-A-Glance
See the 2022 Advisor Academy schedule.
Schedule
In addition to Advisor Academy, the Fraternity hosts in-person, geography-based "Advisor Drive-Ins" as well as virtual "Lunch and Learns" throughout the year. Find information on these events below.
Who: Volunteers (Advisors, GFOs)
When: Various (See 2023 Dates Below)
January 25 | February 22 | March 29 |April 26 | May 31 | June 28 | August 30 | September 27 | October 25 | November 29
(Recordings of past sessions are linked to their respective dates above.)
Cost: The event is free for all advisors to attend.
Register: Participants may register for sessions here. Find full descriptions of each month's topic and more using the event calendar.
Questions: Contact the Administrative Office at 800.800.BETA.