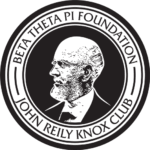 The John Reily Knox Club is the Beta Leadership Fund's premier annual giving club. You can join the club by giving (or pledging) $1,839 or more to the BLF in a single year. As a special incentive for young alumni, Betas within 10 years of graduation can join the club with a gift of $500 or more. JRK Club members receive exclusive opportunities, including a special invitation to our annual recognition dinner at the General Convention.
Join the 400+ Betas and friends who impact the lives of young Beta's across North America through membership in the John Reily Knox Club.
Questions? Contact Director of Development Laura Lednik.
Giving Guide/Ways to Give
Every year, alumni, undergraduates, Friends of Beta and parents support the Beta Foundation. Contributions help bring the Fraternity's vision to light by advancing its educational mission. To make a gift to the Beta Foundation, choose one of the many giving options below.