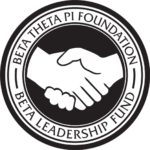 In any given year, gifts made to the Beta Leadership Fund have the most significant impact on the Fraternity's members and chapters. The Beta Foundation will use this fund in the fiscal year 2023 to provide the following critical programs and services:
$100,000 in need-based scholarships
$1,000 per chapter in Men of Principle Scholarship Grants
Over 96 Merit Scholarships providing roughly $125,500 in tuition assistance
More than 300 on-campus chapter visits by chapter development consultants
Some 2,000 scholarships to make Beta's award-winning leadership programs affordable and accessible to all
Local coaching and training for more than 1,500 Beta volunteers
Giving Guide/Ways to Give
Every year, alumni, undergraduates, Friends of Beta and parents support the Beta Foundation. Contributions help bring the Fraternity's vision to light by advancing its educational mission. To make a gift to the Beta Foundation, choose one of the many giving options below.