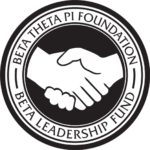 Many employers have established Matching Gift Programs to incentivize employees to make gifts to certified charitable foundations – including the Beta Theta Pi Foundation. These programs can often double or even triple your gift to the Beta Foundation, which is a win-win for Beta's undergraduates.
Use the tool below to check if your employer will match your donation, or click here for a list of companies that have previously made matching gifts to the Beta Foundation.
If you have any questions about the Beta Foundation's matching gift program, contact Laura Lednik at 800.800.BETA.
Giving Guide/Ways to Give
Every year, alumni, undergraduates, Friends of Beta and parents support the Beta Foundation. Contributions help bring the Fraternity's vision to light by advancing its educational mission. To make a gift to the Beta Foundation, choose one of the many giving options below.